Rakuten is an online and in-store cashback app in Canada. You can earn up to 30% cashback using this app and is widely accepted in over 750+ stores across the country.
Rakuten which was formerly known as Ebates also offers 5,000+ coupon codes to help you to save even more apart from the cashback offer. After all, you have nothing to lose here, signing up is absolutely free, and the iOS app is great (I've been using the iOS app for a long time now with no issues at all).
Honestly, by shopping on stores such as Amazon (which we do all the time) will give you a cashback of up to 10%. Isn't that something you'll like? Also, the interesting case study I personally did was to make sure the prices on Amazon aren't bumped up to replace the actual cashback. So, here's what I did for the test run, I cleared all my browser cookies and compared the product prices before and after using Rakuten's cashback. The final result, the product prices were the same before and after the test run with additional cashback I got because of using Rakuten.
One other thing, did you know that Ebates.ca is now officially Rakuten? Yes, you heard it right, Ebates is not officially called Rakuten.
Also, another quickie – Rakuten not only offers cashback for online-only purchases but for In-store purchases as well.
In this article, let's take a look at how to use Rakuten (Ebates) as a new first-time user on this platform, using Rakuten's chrome plugin and maximizing discounts, which brands offer the best accounts, and so on and so forth. Now, let's get started.
How Does Rakuten Work?
Rakuten is a free cashback app In Canada. You can earn cashback for online as well as in-store purchases.
Rakuten is one of the leading global internet services company. Its businesses span from e-commerce, mobile, banking, media and more. It was founded in 1997, and is headquartered in Tokyo and employs over 10,000 people worldwide.
By the way, did you know that the word "Rakuten" means "Optimism" in Japanese?
Cashback earned can be up to 30% max, there are over 5,000+ coupon codes also available.
Also, you'll get a list of daily curated deals, available across multiple platforms – Android and iOS.
Rakuten's support is great as well, with email, chat and social media support.
Almost all of the best and the biggest brands are available on this platform – Amazon.ca, GAP Canada, Indigo, Sephora, Nike, and Dell just to name a few.
Ebates And Rakuten – The Rebranding
First of all, Ebates is now officially Rakuten.
Ebates has been part of the Rakuten family since 2014, and taking the Rakuten name most accurately reflects who they are today, a company that gives you all the Cash Back.
Rakuten is exactly the same as the Ebates.ca site, but with a new name and logo. Within the past year, they have made some small changes to the colors and fonts.
You can log in to Rakuten using the same email address and password you've always used with Ebates. If you have trouble accessing your account, you can contact the user-friendly Member Services team for help!
Rakuten Cashback Offers (Online deals!)
Here's the list of some of the cashback offers, offered by Rakuten on some of the biggest brands:
1. Amazon.ca – up to 6% cashback
2. Expedia.ca – up to 6% cashback
3. Hudsons Bay – 5% cashback
4. Indigo – unto 8% cashback
5. Microsoft – up to 7% cashback
6. Dyson – 6% cashback
7. Lenovo – 6% cashback
8. Roots – 5% cashback
9. Levis – 6% cashback
10. Pizza Pizza – 11% cashback
You can visit the link here to see the complete list of Rakuten's 2X cashback offers
Rakuten's In-Store Cashback Offers
Along with online cashback offers, Rakuten also offers for in-store cashback offers too.
Let's take a look at some of the best In-Store cashback offers offered by Rakuten.
1. Bed Bath & Beyond – 2% In-Store cashback
2. Johnston & Murphy – 5% In-Store cashback
3. Buy baby – 2% In-Store cashback
4. American Eagle – 1% In-Store cashback
5. Crocs – 5% In-Store cashback
6. Under Armour – 4% In-Store cashback
7. Reitman's – 1% In-Store cashback
8. Davids Tea – 2% In-Store cashback
9. Love – 4% In-Store cashback
10. Additional Elle – 2% In-store cashback
To view the complete list of In-store cashback offers, click here
How Does The Rakuten In-Store Cashback Offer Work?
First of all, log in to your Rakuten account and navigate to the In-Store Cashback section.
Next, click on the "Add A New Card" link there. One more thing, when you are adding the new card details, Rakuten doesn't ask you for the credit card expiry date or the CVV number. That's because they don't need your complete credit card details to do any transactions. You are only linking your credit card that's it.
Don't worry you won't be charged for anything now. Once you have added your credit card, click on the "Link Offer" below each of the In-Store Offers.
Then, visit the store and do the shopping as usual, during checkout present the credit card you had linked before. That's it your Rakuten cashback is on its way.
You can check the cashback earned in my account section, once logged in.
Rakuten's Weekly Hot Deals | What is it?
Rakuten has a dedicated section on its official website for Weekly Hot Deals.
Here's the list of a few of this week's best deals that I've got:
1. Levis – Up To 60% Off + 5% Cashback
2. Banana republic – Take 40% Off on everything + 4% cashback
3. Le Chateau – 20% off on everything, Code – LC20CAREER + 5% cashback
4. Old Navy – 50% Off + 4% cashback
5. Walmart – $10 Off + 1% cashback
Now, again, those were only 5 out of the 100's of listings I have in my Weekly Hot Deals.
You can visit the link here to find the hot deals, of course, you need to sign up before you can view the personalized weekly hot deals.
How Does The Rakuten Chrome Extension Plug-In Work?
Did you even know that Rakuten has a Chrome Extension built in? Oh yeah and guess what it works like a charm.
Here's the thing – You can use the chrome extension while browsing amazon or eBay on the desktop and if you're on mobile, then download the Rakuten mobile app to make things easier. Here in this section, I've covered Rakuten's Chrome extension in detail.
Once you signup into Rakuten, you will be prompted to add the chrome plugin to your browser.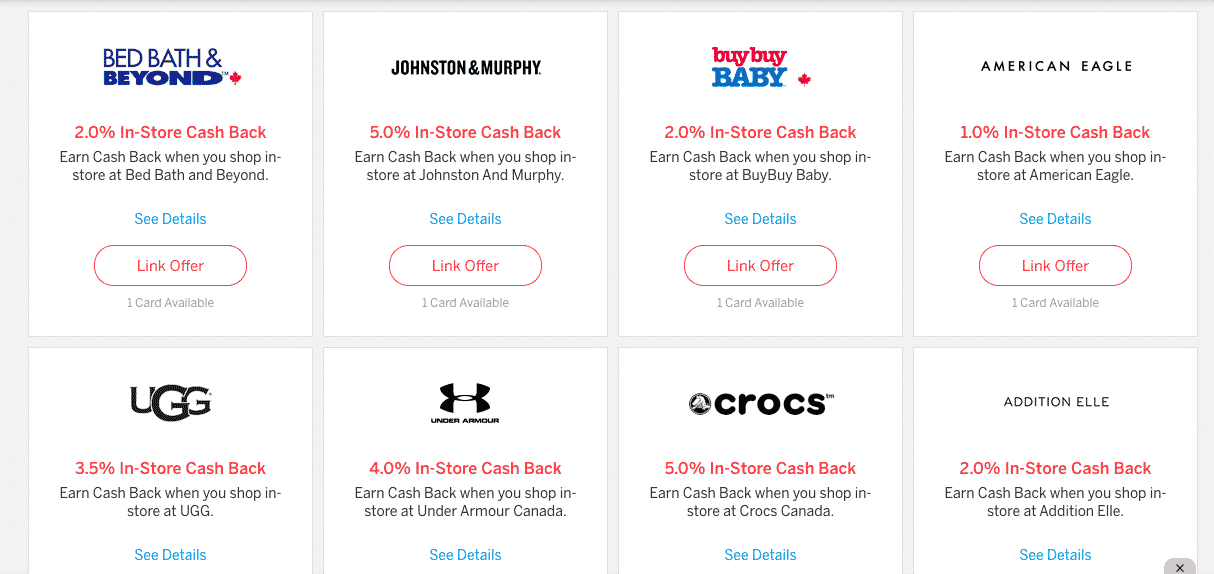 Now, Add Rakuten's chrome plugin to your chrome browser.
Today, I was just browsing Google for The Best Black Friday hosting plans.
As you can see, in the search results Rakuten's chrome plugin will show you the cashback you are eligible for individually above the google search result.
So with this feature, you don't have to go to Rakuten App or website every time to check the Cashback, cashback coupons or discounts. The chrome plugin pretty much does it all for you in the browser and search result itself.
How Do You Earn Cashback From Rakuten?
It's pretty easy to earn cashback and money from Rakuten.
In this section, I'll quickly talk about my recent experience of using the Rakuten App to earn a cashback of 40%. That's right 40% in CASHBACK.
As I said, I searched google for web hosting plans, I found Hostinger's hosting plans Black Friday Deals above the search results, I saw Rakuten showing me a 40% cashback offer. I just clicked on the hosting search link and that's it, I was re-directed to the Hostinger page.
Also during the hosting plan's checkout, Rakuten had 9 coupon codes and applied the coupon automatically, saving me 10% on the overall order price. Mind you, it scanned all 9 discount coupon codes and applied the best automatically.
The order was for $100, I paid $90 during checkout and got Rakuten cashback of $50 🙂
I am really loving this app.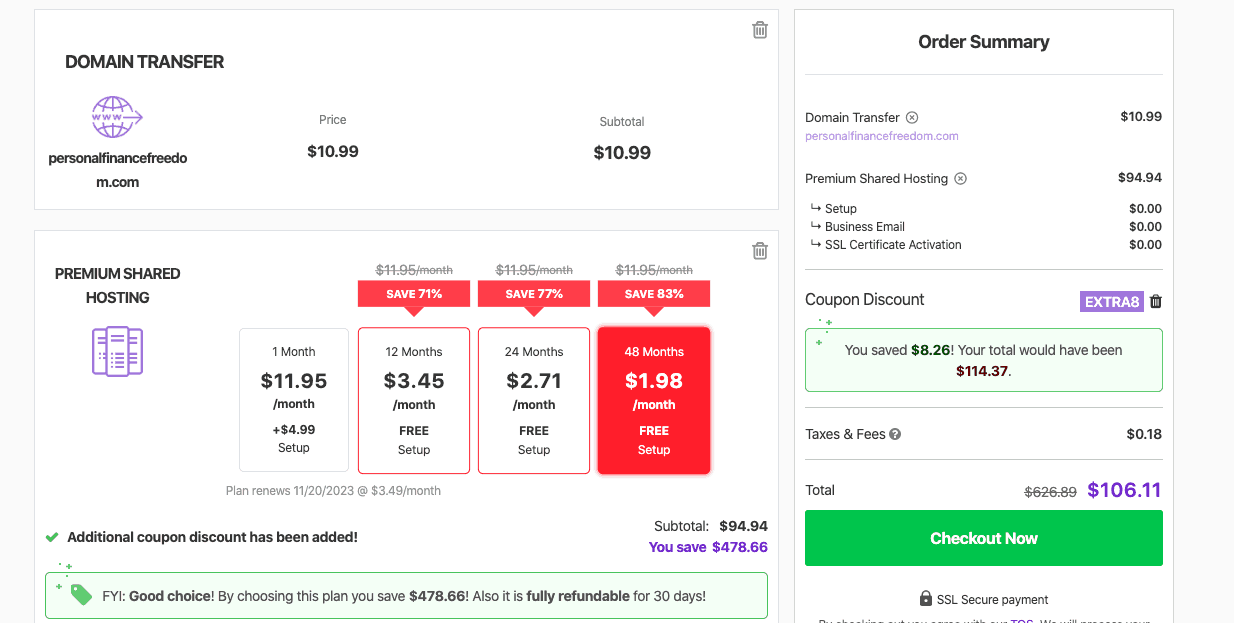 How Soon Will I Get Rakuten Cash Back Credited To My Account?
Most Cash Back rewards at Rakuten are credited within 48 hours.
Some stores, however, cannot confirm your purchase until the return period has elapsed and may take up to thirty days to confirm your Cash Back.
When Will I Get Paid On Rakuten?
Once, Every 3 months, Rakuten will send you a Cash Back payment for purchases you've made during the previous quarter.
But if you've earned less than $5.01 Cash Back, they'll carry over your money to the next cheque.
For example:
Purchases Posted Between Big Fat Cheque Sent
Jan 1 – Mar 31 May 15
Apr 1 – June 30 Aug 15
July 1 – Sept 30 Nov 15
Oct 1 – Dec 31 Feb 15
Rakuten offers several ways to receive payment and is constantly working on ways to pay you faster.
You need to visit My Account to view your Cash Back settings or go to Cash Back Method to change your settings.
Note that you must sign in to change your Cash Back Method. Currently, Rakuten offers 3 ways to receive payment.
1) Big Fat Cheque: Rakuten sends a cheque directly to you – mailing fees are on them. You can change your personal settings (including your address) on the Settings page. Be sure your settings are updated before they send out a payment.
2) PayPal: They'll deposit your payment in your PayPal account – the sender's fees are on them. Just enter your full name and mailing address into your Address, Email & Password page for verification purposes. Your PayPal account must also be verified.
3) Electronic Amazon Gift Certificates: Redeem your Rakuten Cash Back in the form of an electronic Amazon.ca Gift Certificate. When your Cash Back is ready, Rakuten will send you an email with instructions on how to redeem your code for credits on Amazon.ca.
Is My Rakuten Canada Account The Same As My Rakuten.com US Account?
No. If you already have a Rakuten.com account, you can use the same email and password on Rakuten.ca, but they are in fact, two separate accounts on two separate sites. You can certainly have an account on each site if you like.
Your Rakuten.com account activities will pay you Cash Back in US dollars, and Rakuten.ca will pay you Cash Back in Canadian dollars. The Cash Back amounts cannot be combined.
All About The Rakuten App
First of all, Rakuten's mobile App is available on both the Android and iOS platforms (iPhone and Android devices). I've personally been using the Rakuten App for several months now. BTW, the name of the iOS App is "Rakuten Ebates", just to avoid confusion for old and existing Ebates customers.
Let me be frank, the app's pretty intuitive and extremely easy to use.
When you first download the app, you'll be asked to register/log in to access the app.
Once you successfully log in to the app, you'll be taken to the store page. You have a search tab right at the top of the app screen – where you can search for stores and active coupons sitewide.
Below this section, you can see all the stores list and all categories.
Then you have the "Trending Stores" and the cashback percentages for each of the stores. For example, the Amazon store is currently promoting a 5% cashback for all purchases.
If you tap on the "Featured" tab in the Rakuten App, you'll be able to see all Hot Deals, Favourites and 2X Cash Back offers. Again all these three are different tabs with individual offers.
Last but not least, you can see all the cash back you've earned in the "My Account" section of the app, which is located in the bottom right corner of the App.
As I said, Rakuten's mobile app is extremely user-friendly and well-built, it is very easy to get started with the App and earn cashback.
How To Register For Rakuten?
1. Join Rakuten By Clicking The Link Here [Rakuten's Canadian website]
2. Click on the "Join Now" link in the top right side of the homepage
2. Here you have two options to sign-up. First, sign-up to Rakuten using your Facebook account, or second enter your email Id and password. Then click on "Join Now"
3. Then, you'll see a pop up that says "Forgot Cash Back Again? Get Rakuten Express and activate Cash Back directly on store sites". If you are browsing the site through Chrome, click on the "Add To Chrome, Its Free" button.
4. Once you add the Rakuten plugin to your Chrome browser, next you'll see this screen.
5. Next, you'll see that you are already logged in to Rakuten
6. Now, click on the search bar at the top middle part of the screen which says "Search Stores or coupons"
For Example, type Amazon In the search box and you'll see the auto-suggestions and the cashback it offers. In this example, Amazon's offering a cashback of up to 6% which you can see directly from the suggested search.
Rakuten Gift Card Shop | What Is It?
Rakuten offers a great variety of choices for gift card purchases.
If you are looking for gift card purchases – you have a handful of choices ranging from Walmart, McDonald's, Pizza Pizza, ESSO gas station, PETRO Canada, No Frills, Uber Eats, Shopper's Drug Mart etc. There are other stores as well. Click here to view the complete list.
In order to purchase the gift card from Rakuten, all you have to do is –
Sign-up online and have a valid Rakuten (Ebates) account

You can then log in and buy gift cards from your favorite retailers online at Rakuten.ca

Of course, you'll cash back on every gift card purchase. To see the individual store cashback offer, do check the above link mentioned.

you get free shipping on all the gift cards you purchase and this is not a one-time deal 🙂

Reloadable Gas Card At ESSO and PETRO Canada – If you purchase the ESSO gift card, for example, you can reload it n number of times and earn cashback for every single purchase. Click here to view more details.

Now, here's the thing – Rakuten offers a great variety of choices for gift card purchases.
If you are looking for gift card purchases – you have a handful of choices ranging from Walmart, McDonald's, Pizza Pizza, ESSO gas station, PETRO Canada, No Frills, Uber Eats, Shopper's Drug Mart etc. There are other stores as well. Click here to view the complete list.
What does The Rakuten Store Page Look Like?
So, now you have already searched for the Amazon.ca store in the previous section. Click Enter.
You'll be taken to the Amazon Canadian Store page.
Here you'll be able to see the following sections :
1. Up to 6% cashback and "Shop Now" button
2. You'll also be able to see the Bonus Week Promotions and Bonus Week Deals
3. Then you'll see very useful and helpful store details like:
1. This store ships to Canada
2. The store accepts Canadian Store
3. Duty-Free Shopping
4. How Does this work?
4. Next, you can see the "Average Days to Report Cashback – 7 Days" – What this means is that how soon after buying at amazon.ca, you'll be able to see the cashback credited to your Rakuten account.
5. Also, to the right-hand side of the page – you'll see Amazon's categories and the cashback percentages for each of the categories mentioned.
6. Next, you'll see the "What's Hot This Week" section – Here you will see a couple of categories of decent cashback offers.
7. Below, you will see the Amazon.ca Promo Codes and Coupons section – In this part, you will see all promo codes and coupons for the amazon store.
8. Below that, you'll find the Amazon.ca Shopping secrets section where you will find some useful information about the amazon store
So all this information we just spoke about, was for the Amazon store.
Similarly, every store page at Rakuten (Ebates) has a similar set-up, there's plenty of useful information for the user before he or she continues to the shopping site.
Last but not least, once you click on the Shop Now button on the Amazon store page, you'll be taken to the amazon.ca site from where you'll earn cashback.
Conclusion
Rakuten is an amazing and fantastic cashback player in the market.
Almost every place you shop is usually on the 700+ stores that Rakuten (Ebates) has partnered with for earning cash back.
The website is very intuitive and has tons of information, especially the individual store pages. The cashback percentage is good too!
Also, redeeming the cashback earned is great as well with three options to get your money.
Overall, my review of Rakuten (Ebates) is very positive. There's nothing you need to pay for signing up. Give it a try, I'm sure you will like it.
If you like the content of this article and find it useful, please share it on social media and help spread the word. Also, let me know your thoughts and comments in the comment box below.
Top 10 Popular Posts Of All Time
Rakuten Review
Pros
Unlimited cash back earning potential
Very reliable in terms of cashback payments
Present in US and Canada, lots of stores to earn cashback
Cons
Payment for previous quarter, in the next quarter
Cashbacks credited to the account might take upto 30 days sometimes
Android App UX can be better