In this article, let's take an in-depth look at everything Costco Membership has to offer, to help you determine if a membership is right for you.
Why Do You Need Costco Membership?
One of the most popular wholesale stores in Canada is Costco. So here's the thing, Costco charges its customers an annual membership fee; in return you get access to special deals on different products — and even some extra services.
Costco truly is the cream of the crop when it comes to everyday shopping values and it is very hard for competitors to catch-up in regards to value or price because they have great prices on above average quality products.
As a reminder, here's a list of my favourite reasons for buying a Costco membership.
Industry Leading prices on consumer goods, such as milk & bread.

Huge Savings from buying items in bulk.

One of the best return policies across the industry.

Cheaper gasoline prices with great quality standards and discounts for members.

Always focuses on high quality products, from food to clothing.

A wide range of add-on services, including, travel, optical, and pharmacy and special perks for members.
Costco Membership Types
Gold Star – $60 CAD Annually

Gold Star Executive – $120 CAD Annually

Business – $60 CAD Annually

Business Star Executive – $120 Annually
All Four Membership Types have two things in common:
Includes a Free Household Card

Valid at All Costco Locations Worldwide
Costco Membership – Is it Really Worth ?
Most of you will agree that a Costco membership is worth the $60 a year. After all, that amount can be saved in one or two trips.
The savings that come with a Costco membership can be significant, providing that you stick to your list, and shop carefully. Of course, this is often easier said than done. With so many tempting items on the shelf, shoppers often end up spending on impulse purchases.
Costco is actually good for larger families since you can often find items to buy in large quantities. Even a small family can benefit from a Costco membership since it's possible to preserve for a later date some of the items purchased.
Regardless of your family size, it's important to be realistic about how quickly you will go through perishables (food, beverages etc). While it's possible to keep canned goods for a real long time, and you can freeze meat and cheese items for later, produce like lettuce and bananas isn't so easy to preserve.
Its always better to plan things ahead or make a list of items you want to buy, especially before going to a place like Costco.
In other words, make sure you don't buy too much for your family since you don't want to throw away your purchased food or waste your hard earned money with something you don't need.
Gold Star Membership
There are essentially three types of Costco membership (officially four as mentioned above; let's talk about three important ones now).
Let's begin with the Gold Star membership, at $60/year. An additional card is available free of charge for spouse or family members over 18 who is residing at the same address.
The Gold Star membership is ideal for someone who wants access to wholesale prices, but is unsure if they will spend enough money to benefit from a higher level of membership, which takes us to the next type of Membership – Business Membership.
Costco Business Membership
Costco offers a Business Membership to licensed business owners (including small business owners and incorporations), managers, non-profit organizations and government agencies.
Quick note here – Even if you drive for Uber, you have the HST number which works for the small business account owner.
Business Membership fees is the same as the Gold Star membership, the annual fee is $60, and a complimentary card is available just like before.
The Costco Business Membership differs in that it makes up to 6 additional cards available at $60/each, and also allows members to purchase items for resale. The best part being; Business members do need to make Costco aware of any information regarding items they plan for resale.
Costco Executive Membership
Executive membership offers several additional benefits compared to star and business memberships; at an annual cost of $120/year. It also includes a complimentary spousal card, and can be used by business members as-well.
Now Let's take a closer look at the added benefits of the Costco Executive membership and why it's worth paying that extra money for :
You may be wondering whether the Costco Executive membership is worth the extra $60 a year.
Does the Executive membership really offer so much more than the regular membership, with its access to discounts on everyday products?
Costco Executive Membership – Is It Really Worth Your Money?
You'll get 2% cash back on most of your purchases at Costco. At minimum, you'd want to at least make back the additional $60 cost you paid for the Executive level.
An even better scenario is if you can get $120 back to pay the entire cost of your Costco membership. It all really depends on your need and family size or budget you wish you to spend at Costco.
Additional savings on many Costco services. Now what do you mean by that ? Let's break it down for you – Costco offers services ranging from a real estate program to mortgages to insurance to business services.
There are also some extras available to executive members, off-course at a cost, including roadside assistance and cheaper cheque printing.
Exclusive offers and extra discounts exclusively for Executive Costco members. You can receive special invitations for products, as well as get a first look at promotions and discounts
You will have to plan your spending at Costco if you want to make up the cost of your membership. For example, to get a $60 reward, you would need to spend at least $3,000 a year, or $250 a month.This is relatively easy if you do most of your regular shopping and gas at Costco.
Always make a list, and plan to shop at Costco; otherwise you'll end up spending more on the items which might not be required at the moment or the near future.
Case Study – Costco Executive Membership
Now, if you're planning to get the $120 Costco Executive membership you would need to spend $6,000 a year, or $500 a month.
Like I said, if you include filling up your gas at Costco, it actually works out great. Mind you, gas prices are a lot cheaper compared to regular gas stations, quality is exceedingly good. But be prepared for long lineups.
This amount might be more than many will spend at Costco, but it's definitely possible to spend that much if you are doing the majority if your grocery and other shopping there. It's even easier if you have a business and get most of your needed supplies from Costco.
Some of the other benefits of the Costco Executive membership are aimed at business members. They receive access to competitive prices on payroll services, credit card processing services, and more.
Even regular non-business shoppers like you and me can benefit from the Executive Costco membership. As long as you're spending over $250 a month at Costco, the executive membership is probably worth the extra cost, since you can make up the added fee with your cash back.
However, you want to make sure that you are shopping according to a plan. If you pay for the membership, don't spend just for the sake of spending, make sure that what you're buying makes sense for your family.
Add-On Costco Services
In addition to the regular warehouse, Costco offers many other services, which are definitely worth checking out.
These include photo development, a range of printing services, home and auto Insurance, life and travel Insurance, professional installation services, as well as a tire centre.
Online Shopping
Costco makes shopping experience even easier by making a large selection of products and services available for online purchase. Costco's online shopping experience is in-fact excellent and similar to that of most other online retailers like amazon and eBay.
In-order to place your first order, you'll need to to register first, at which point your Costco membership will be connected to your online account.
Shipping is available to most areas, with the exception of a few, very remote locations.
Costco Travel
Costco offers offers a full slate of travel booking services to members.
Make sure you shop around for good travel packs before booking at Costco.
While it's true that Costco Travel has established a strong reputation based on the service and value they provide, online travel websites are very competitive as well, so there's no guarantee that any single provider will always have the best deal.
Costco Gas
Let me first tell you this, the gas quality at Costco is truly world class. Cant be compared to local dealers especially.
With Costco Gas you can take advantage of reduced prices at the gas pump. Gasoline is available at all Costco locations, and is often priced 6 or 7 cents/litre below leading gasoline retailers.
Depending on how often you fuel up, this discount alone may be worth the cost of membership.
Talking about the Gas Quality it is on par or in-fact better than most of the other leading gasoline retailers in Canada.
Costco Optical
Most of the Costco locations feature a full service optical department. They accept current prescriptions from licensed optometrists, and you don't require an eye exam from a Costco location in order to purchase eyewear products.
However, Costco does offer full eye exams at most locations, completed by independent Doctors of Optometry.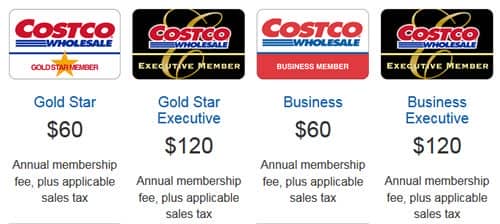 Costco Pharmacy
Most of the Costco locations have the pharmacy services, and can be a great way to obtain competitive prices on a wide range of health related products, medicines and services.
Costco Members in all provinces except Quebec and Prince Edward Island, can now order online prescriptions and have them delivered directly to their home address.
With Costco Pharmacy, you can expect convenient, cost-effective way of receiving your prescription medications.
You can take advantage of Costco pharmacy's prescription mail order service, which allows you to fill your new and refill prescriptions online from the convenience of your own home, 24 hours a day.
Your prescriptions are then delivered right to your door, through free expedited shipping, so that you get your medications in a timely, convenient and affordable manner.
Getting Started with Costco Pharmacy
First, register with Costco Pharmacy by clicking on "Register Now".
Once you are registered to Costco Pharmacy online, you can choose one of three options to begin your prescription order with the Costco Pharmacy Prescription by Mail.
If you have a new prescription, have your doctor fax or phone it in to the online mail order pharmacy.
If your prescriptions are at another pharmacy, simply provide Costco with the pharmacy name and contact information and the prescription details and Costco will transfer them to their mail order pharmacy (including another Costco Pharmacy store).
Once your prescriptions are at your desired Costco's mail order pharmacy location, refilling them is simple.
You need to then login to your account and request to re-order your prescriptions.
Once you've confirmed your order, Costco will ship your prescriptions from their mail order pharmacy to the address you had chosen within 2-5 business days.
You will also be able to track your orders online!
With every order online, you will receive a tracking number that will allow you to track your delivery.
Costco Credit Card – Is It Worth?
Costco Canada only accepts Mastercard branded credit cards. In the past, they had a relationship with American Express, but that ended way back in 2016.
Amongst the current Costco credit card deals in the market, Capital One offers a cash-back Mastercard exclusive to Costco members. It's a no-annual fee card, which offers 3% cash back at restaurants, 2% on gasoline purchases, and 1% on all other purchases, once you reach $3000 in annual spending.
The first $3000 of regular purchases is set at .50% cash back.
Other benefits of the Capital One Mastercard include Purchase Assurance, Extended Warranty and Auto Rental Insurance.
As we know now, Costco does not accept Visa credit cards for purchases, however it does allow you to use your Visa card to purchase Costco Cash Cards or gift cards and you can do this online.
This makes it possible for Visa Credit Card Holders to collect reward points while using the cards to shop at Costco locations.
Shopping At Costco Without A Membership
If you're still not convinced on becoming a Costco member, there are ways that you can benefit from their wholesale prices without a Costco membership.
A Costco Cash Card ( or gift card) will get you in the door, can be used by non Costco members, and can be purchased with a minimum balance of $10. There is small setback here, Once the card balance has been used up, it must be reloaded, or another one purchased by a Costco member.
In other words, you need to rely on a Costco member to help you out, which may be inconvenient for either party.
For our neighbouring US shoppers, Google (Google Express) is now offering shoppers access to Costco products, without requiring a Costco membership.
Additionally, shipping is free for orders over $25. Unfortunately, this service is not yet available to Canadian's.
Costco Return Policy – How does it stack up ?
Costco's return policy has always been the best in the industry standards. A simple Google search will reveal some impressive Costco return stories, with items sometimes being accepted back years after the initial date of purchase.
Costco guarantees client satisfaction with at-most priority and with every purchase; offer full refunds upon return of an item.
Exceptions are always part of the game – Most electronics, for example, are limited to a 90-day return policy, and items that have a limited useful life expectancy, such as batteries or tires, may be subject to a product-specific limited warranty.
Costco will also refund memberships in full to any customer who isn't satisfied with their shopping experience.
Conclusion
For starters, Costco always seems to be incredibly busy, and simply finding a parking spot can be a chore in and of itself. For the fee averse, the idea of ponying up the cost of an annual membership can be annoying.
But cons aside, the money saving opportunities may be too good to ignore.
It's definitely worth considering the Costco membership if not now in the near future.
Please let me know your thoughts and comments below.
Top 10 Latest & Popular Posts
Hey, I'm Sagar from Toronto, Canada.
I am a self-taught, motivated Canadian Personal Finance Blogger who loves writing articles about Savings, Investing, Stocks & ETF reviews, Side Hustles, Frugal Living, Credit Cards and Retirement Planning. Husband. Father. Software Developer. Web Designer. Hiking Enthusiast.